What are Consumer Mains?
Consumer mains are the supply cables that supply electricity from the street power, either an electrical pillar or a power pole, to your switchboard. They are a necessary part of the electrical installation.
Over time consumer mains may need to be upgraded. They may become defective due to deterioration or low insulation resistance. If your mains are inspected and deemed unsafe, you will receive an electrical defect notice from the authority network.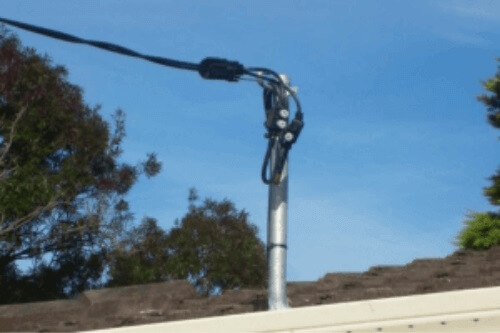 Must be Connected by a Level 2 Electrician
Consumer mains can only be installed by a licensed level 2 electrician. Ordinary licensed electricians do not have the requirements needed to connect the consumer mains to the supply network.
Defective Mains Can Lead to Power Outages
The electrical needs of today are a lot higher than they were in the past. Outdated mains in old homes are often defective and cannot handle the demands of current power usage.
If you experience a power loss, it is usually the result of overworked consumer mains when they can't handle the power load and therefore fail.
Installation of Consumer Mains
For overhead service lines, POA (point of attachment) brackets or fascia hooks will be installed on your home to hold the cable. The line will be run down through the roof cavity. 
For underground lines, the cable is installed in heavy duty conduit and buried in a trench, minimum 600mm, and run to the switchboard.
When Do You Need to Upgrade?
Defective and undersized mains can lead to power outages and other issues. If your main is defective, it can be a safety hazard and you should have it replaced right away.
If you have experienced an increase in electric usage, you will also need to perform an upgrade.
Most older homes were wired with a 6mm cable. This was fine for the electricity that was required back then. Today we run more electrical appliances, and the demand is too great for the size of the cable.
It is common for homes to have:
More Than One Television

A Washer and Dryer

Refrigerator

Microwave

Electric Hot Water Heater
Electric Range

Lighting

Toaster

Smartphones

Computers
There is a constant demand for electricity. If you overwork your main, you are at risk of a power outage or an electrical fire.
Why Choose Dave Fenech Electrical?
Only hire a company you know that you can trust. We have over 20 years of experience in the electrical field. Being a level 2 electrician we are able to handle all your electrical jobs.
Other services we offer include, but are not limited to:
Overhead and Underground Cables

Metering

Disconnections and Reconnections

Switchboard Upgrades

Electrical Repairs

Defect Rectifications

Power Pole Installation and Replacement
Temporary Power Poles

Temporary Power Supply

Trenching and any Size Cable Install

Duct Installation in Street for Subdivided Blocks

1 to 3 Phase Supply Upgrades

Circuit Breaker and Safety Switch Installs
Call Now
Consumer mains are necessary for you to have electricity in your home. Damaged and defective lines are a safety hazard and should be dealt with right away.
If you need more information about the installation or replacement of consumer mains, give us a call today.