Installing temporary site power for your building site can be a blessing to a building site. Having power connected will make it easier for all trades to complete their jobs quickly and effectively.
That's why it is very important to hire Dave Fenech Electrical Services as your certified level 2 service provider who has the knowledge to install your power pole and temporary site power safely.
Grade A electricians are not qualified for temporary power pole installations. If temporary site power has not been performed correctly, you can be putting workers, the public and structures in harm's way.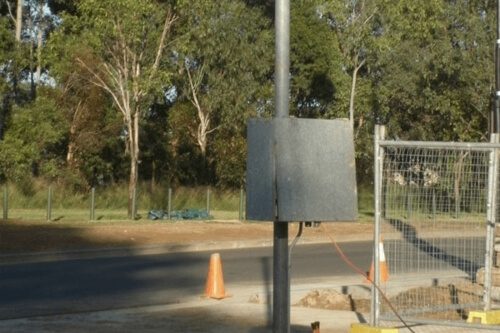 Call (02) 9833 9566 for a FREE trusted electrical service quote.
We are a level 2 electrician servicing all areas of Sydney.
Temporary Power Pole Cost
The temporary power cost will depend on multiple variables, like:
Is the pole going to be permanent?

Will the meterbox be installed on the house or can we supply a second hand meterbox?
These are just a couple of variables. It is hard to determine the cost without seeing the site and knowing what we will need to provide to make sure that we are able to provide a legal service.
So give us a call to organise a free, no obligation inspection of the site so we can organise an accurate quote.
What is a Temporary Power Pole?
A temporary power pole is a private pole that has been set and connected to the network to provide power for building sites.
A temporary meter box and metering equipment are attached to the pole so that workers have the electricity they need to run their power tools.
Once construction has been completed the meter box on the pole will be detached and the temporary pole can be taken apart and removed if necessary.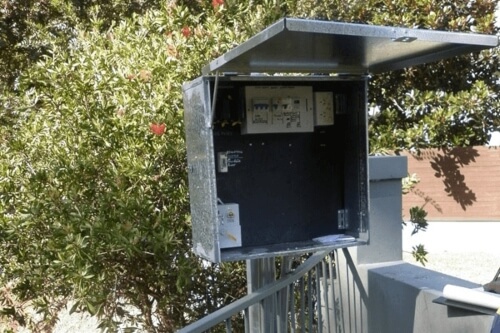 Temporary Service Pole Installation Process
When installing temporary site power it is important to take into consideration the site layout. This includes property boundaries, construction offices, construction areas and parking area.
All of these things will affect where we can set a temporary power pole, which needs to be located within 1m of the front boundary, with the overhead line not crossing any other property.
It is critical that all of these areas are identified before we set the pole and the temporary power box. You don't want us to come back on multiple occasions to move the temporary power pole. If this happens, your productivity will come to a stop and there will be additional fees incurred.
Pre-planning is key in making the job a success. Always keep in mind your end game. Not taking the time to properly plan will lead to failure.
When planning, take into consideration:
When the temporary site power must be available. Plan ahead and don't wait until the last minute. 

What are all the job sites subcontractors' power needs? Talk to them before the temporary power service pole has ever been connected.

When will you need the permanent site power installed?

Will the meterbox installed on the pole be the meterbox that is to be installed on the house?
Temporary Overhead vs. Underground
Temporary site power can be installed overhead or underground. The most common type of temporary electrical installation is overhead installations.
The existing utility infrastructure at your construction site will usually determine which type of installation you will require. 
Overhead Solutions
Overhead installation is the most common and usually the most cost-effective option. Our electricians have the expert knowledge, resources and equipment needed to handle any size job. We will design and install the electrical system that will meet your specific needs.
Underground Solutions
For construction jobs that need temporary site power to be installed underground, we have you covered. Installation requires a trench to be dug and double insulated XLPE waterproof cables to be installed. The cables are installed in heavy duty conduit. We currently have 2 excavators and multiple teams of highly trained and enthusiastic employees.
Call (02) 9833 9566 for a FREE trusted electrical service quote.
We are a level 2 electrician servicing all areas of Sydney.
After Temporary Site Power Removal
Once we have removed the temporary electricity connection and pole we can directly hook your service to the network or install a private power pole.
Installing a private power pole gives you the opportunity to position it on your property where you want it. Having a private residential power pole installed can create a safer environment.
We offer overhead and underground services. Overhead services are the most common type of service, but more and more consumers are choosing to have underground service installed instead. Underground is a safer option and gets the lines out of sight and out of mind. They also help to limit power outages since they cannot be as easily damaged by inclement weather, wildlife or tree limbs.
If you do choose to have a private pole installed, after we remove your temporary electric pole, it becomes your responsibility to keep it safe. Make regular inspections of the pole and watch out for the following defects.
Deterioration of steel poles near the ground level

Large cracks in wood poles

Low hanging or damaged wires

Poles that are leaning

Rotting of wood poles

Termite damage in wood poles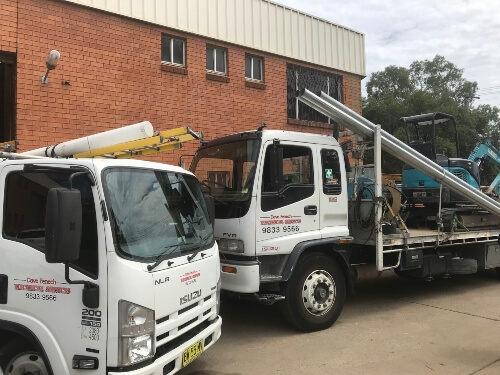 About Our Electrical Services
Dave Fenech Electrical Services Pty Ltd our electricians are able to handle all types of temporary site power installations.
Every job that we do is completed to temporary electrical installation regulations. We always go above and beyond in quality and safety.
We want you to be happy with our work, and we want everyone to be safe. We have great pride in our high standards and fast service. 
Being an accredited level 2 service provider allows us to provide many different services which include: 
Contact Dave Fenech Today
Our full-time staff are highly experienced and are capable of carrying out all of your temporary site power installation needs.
Dave Fenech Electrical Services Pty Ltd services all areas all of Sydney, Penrith, and Blacktown based western Sydney NSW. If you are a builder or homeowner looking for a level 2 electrician electrician to provide you with temporary site power give us a call today. 
Call (02) 9833 9566 for a FREE trusted electrical service quote.
We are a level 2 electrician servicing all areas of Sydney.