Level 2 Electrician Bankstown NSW 2200
When you require the assistance of an electrician, it is best to hire a level 2 electrician in Bankstown. For most electrical jobs, level 2 electricians are required. They have been certified to provide services other electricians cannot.
Being a level 2 electrician allows you to get the job done quicker and cheaper. We do not have to call in a middleman to perform any of the work. At Dave Fenech Electrical Services, our electricians can take care of any electrical job you have from start to finish.
Top Benefits You Will Receive by Hiring Dave Fenech Electrical Services
Dave Fenech Electrical Services Pty Ltd was established in 1999. Dave has years of experience and started in the electrical industry in 1986. He has gained a vast amount of knowledge that helps us handle any type of situation we come across.
Benefits of hiring Dave Fenech Electrical Services Pty
Over 20 Years of Experience

We are Trustworthy and Reliable

Fast High-quality Service

Rapid and Effective Response

Safety is Our Priority

High Standards

Level 2 Electrician in Bankstown

Licensed and Insured Electricians

Clean and Tidy Workmanship

Friendly Staff

We are Problem Solvers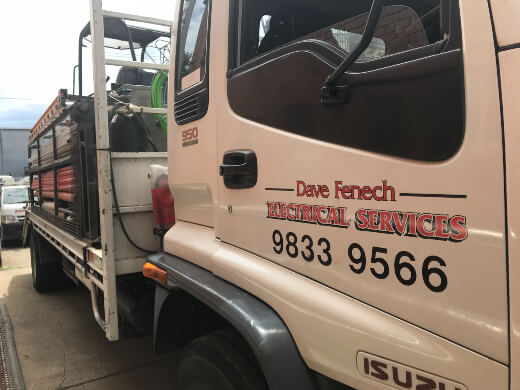 What is a Level 2 Electrician?
A level 2 electrician has had extensive training and has been certified by the government. They hold the qualifications required to physically connect your service to the network. A Level 2 electrician in Bankstown is different from an A grade electrician.
An A grade electrician does not hold the same qualifications. When you hire an A grade electrician they often have to call a Level 2 electrician to finish the job. On the other hand, if you call a level 2 electrician, they can perform all the work themselves.
Why Do You Need a Level 2 Electrician in Bankstown?
Electrical work is dangerous. And the work a level 2 electrician can perform is even more dangerous than regular electrical work. All major electrical work must be handled by a level 2 electrician in Bankstown.
Being certified gives us the ability to physically connect and disconnect service to the network. A grade electricians cannot perform this work. If you call an A grade electrician first, they must call a level 2 electrician to finish the job.
By calling us first you will save time and money.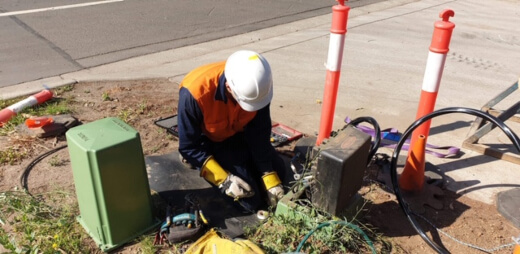 Jobs Our Level 2 Electrician in Bankstown Can Perform
Underground and Overhead Cables
Only level 2 electricians can connect underground and overhead cables to the point of supply. We are also able to disconnect and reconnect service. 
Disconnections and Reconnections
We are certified to perform disconnections and reconnections.
Metering
Metering is required before you can use your electrical service. The meter allows your provider to record your electricity consumption.
We perform
New meter installation

Meter upgrades

M

eter removal

1 phase meter to a 3 phase meter upgrades
We offer off-peak meters, solar panel meters, smart digital meters, granny flat meters, split electricity meters and relay switches.
Electrical Repairs
A level 2 electrician in Bankstown can handle any electrical emergency or repair you may have.
Switchboard Upgrades
An old or faulty switchboard can be a safety hazard. Upgrading a switchboard is a dangerous job. The work must be performed by a certified level 2 electrician
We offer switchboard upgrades, replacement and removal. Switchboards that contain asbestos, must be replaced. Asbestos is a health hazard that has been proven to cause cancer.
Defect Rectifications
Defect rectifications can be frustrating and expensive. But they must be dealt with right away. We will work with you to get them fixed quickly and at an affordable cost.
Power Pole Installation and Replacement
Level 2 electricians can install and replace power poles. If you have a power pole on your property, it is your responsibility. Regular checkups must be performed.
Check for defects such as cracking, leaning, rotting wood, rusting metal, termite damage, and low hanging or damaged wires.
Call Today for Your Free Quote
Call Dave Fenech Electrical Services Pty Ltd today for your free quote. With over 20 years of experience, we can handle any electrical job that you have. Do not try to handle the job yourself, electricity is dangerous.
Only trust a certified level 2 electrician in Bankstown who knows how to perform the work safely.