Level 2 Electrician Blue Mountains NSW
Level 2 electricians are required when the work entails dealing with the electrical supply network. Dave Fenech Electrical Services Pty Ltd. have level 2 electricians in Blue Mountains ready to help you with your electrical needs.
What is a Level 2 Electrician?
Level 2 electricians have extensive training and have been certified by the government. They hold the qualifications required to physically connect your service to the network.
A Level 2 electrician is different from an A grade electrician. A grade electricians do not hold the same qualifications and often must call in Level 2 electricians to finish their job.
Level 2 electricians do not have to call anyone else for help.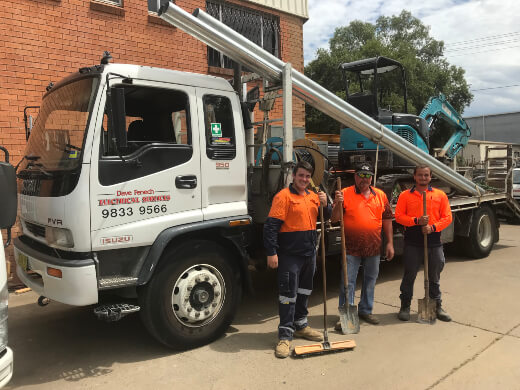 Our Level 2 Electrical Services in Blue Mountains
Level 2 electricians are required for all major electrical work. Being certified by the government allows us to perform large jobs as well as small jobs.
We offer the following level 2 electrical services in Blue Mountains:
Underground and Overhead Cables
If you need to have underground or overhead lines installed it must be done by a level 2 electrician.
Our certification allows us to perform disconnections and reconnections to the service. We can also replace service fuses, and replace service active and neutral links. 
Disconnecting and reconnecting to the street power.
Only a level 2 electrician can perform disconnections and reconnections to the network.
Power Pole Replacement and Installation
Defective poles must be replaced, or your electricity can be turned off. A level 2 electrician is required to install and replace power poles. If you have personal power pole, perform regular checkups.
Watch out for defects such as termite damage, rotting wood, cracking, leaning, rusting metal and low hanging or damaged wires.
Blue Mountains Electrical Repairs
Our Blue Mountains level 2 electrician can handle all your electrical repairs.
Our level 2 electricians can save you time and money when handling defect rectifications. We will perform all necessary work quickly and affordably.
Blue Mountains Switchboard Upgrades
Defective and outdated switchboards can be dangerous. They blow fuses and often contain asbestos, a known carcinogen. If your board is blowing fuses, it should be replaced.
Defective switchboards can lead to electrical shock and fires. In many cases, the switchboard cannot handle your electrical needs.
Upgrading your switchboard will allow you to use more electrical equipment without blowing fuses.
Electricity Meter Installation
A meter must be installed before you can use your electric service. Meters allow your provider to record your electricity consumption.
We can perform
1 phase meter to a 3 phase meter upgrades

meter upgrades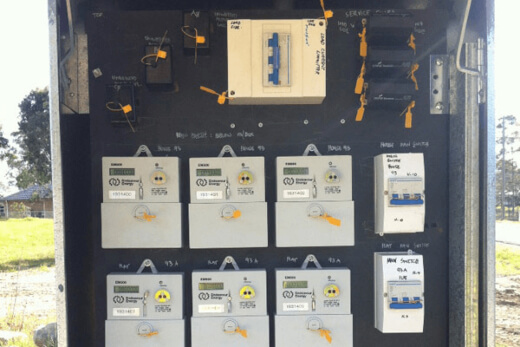 Our certified level 2 electricians can install off-peak meters, granny flat meters, solar panel meters, smart digital meters and relay switches
Off-Peak Meters
Off peak meters can save you money if you do not have a high demand for water during the day. These meters let you heat water overnight when electricity demand is low.
Granny Flat Meters
Installation of a granny flat meter will remove the hassle of splitting up your electric bill. Your tenants will know exactly what their personal electricity consumption is.
Installing a granny flat meter may also lower your electricity bill. It can remove you from the higher consumption bracket.
1 Phase and 3 Phase Meter Installation
3 phase meters are necessary when running 3 phase equipment. 3 phase is more reliable than 1 phase.
Smart Digital Meters
Smart digital meters allow you to keep an eye on your electricity usage remotely. This gives you the opportunity to shut off your electricity when you are not at home.
If there is a problem with your electricity, the meter will notify your provider.
Solar Metering
Solar metering is needed if you install solar panels. A solar meter will read and record the amount of electricity your system generates.
In some cases, any surplus electricity that you do not use can be sent back into the network.
Trust Our Level 2 Electrician in Blue Mountains
Call us today for your free quote. With over 20 years of experience, the electricians at Dave Fenech Electrical Services Pty Ltd can handle any electrical job that you have.
Do not look any further for a level 2 electrician in Blue Mountains.