Level 2 Electrician Sutherland Shire NSW
If you require the assistance of a level 2 electrician in Sutherland Shire, give us a call. We know that finding a qualified level 2 electrician can be difficult.
Do not look any further than Dave Fenech Electrical Services Pty Ltd. We are here to help you with all your electrical needs.
What is a Level 2 Electrician?
Level 2 electricians have been certified by the government. They hold the necessary qualifications needed to physically connect your service to the network.
They are different from an A grade electrician since they perform more dangerous work. Level 2 electricians have extensive training and know-how to handle all types of electrical situations safely.
Our Sutherland Shire Level 2 electricians do not have to call any other electricians for help.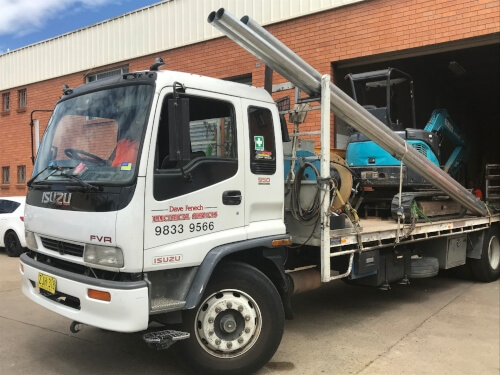 Our Level 2 Electrical Services in Sutherland Shire
All major electrical work requires a level 2 electrician. Being certified allows us to take care of large jobs as well as small jobs.
Our level 2 electrician in Sutherland Shire can perform the following electrical services:
Disconnections and Reconnections
Only a level 2 electrician can perform disconnections and reconnections to consumer mains. By being certified we can attach to underground and overhead service lines.
We are also able to move the point of attachment and replace service fuses.
Our electricians can repair damaged cables, unsafe cables, meters, switchboards, and defect rectifications. We can handle all the work without calling anyone else in for help.
Defect rectifications are not only time-consuming, they are costly. We will work with you to fix the issues as quickly and cost-effectively as possible.
Old and defective switchboards are dangerous. They can lead to house fires and electrocution. Older switchboards are also unable to handle the electrical needs of today. Our electricians can upgrade your switchboard and improve safety.
Meter Upgrades Sutherland Shire
A level 2 electrician in Sutherland Shire can upgrade single phase to 3 phase. Meter upgrades are often required when installing an air conditioner or running 3 phase machinery.
We can upgrade your existing meter or install a new meter. Our electricians can install off-peak meters, solar panel meters, granny flat meters, split electricity meters, smart digital meters and relay switches.
Sutherland Shire

Underground Cable Installation
Underground cables are becoming more popular. They are safer and more aesthetically pleasing. Being a level 2 electrician in Sutherland Shire allows us to install, upgrade and repair your underground cables to the point of supply.
We can also disconnect and reconnect consumer mains, replace service fuses, service active and natural links. Underground installation requires us to remove grass. Once removed we dig the ditch and install xlpe waterproof cables.
After the cable is installed, we backfilled the ditch halfway and lay a marking tape. This tape is a safety precaution. If someone were to dig in the area and hit the tape, they will know that your electric line lays directly underneath.
Lastly, we finish backfilling the ditch and relay the grass.
Overhead cables are the most common type of supply to homes and businesses. Level 2 electricians can provide you with overhead cable service. We can install, connect, relocate, and upgrade overhead service lines to the supply system.
Service fuses, service active and neutral links can be replaced as well. Overhead lines can be damaged. All overhead service line defects need to be repaired.
Lines can be damaged by trees, accidents, animals and UV rays. Boxes and brackets can also be damaged and require repair. Low hanging wires can be dangerous and should be buried or raised.
Private Pole Installation and Replacement
A power pole that is on your property is your responsibility. If the pole has been damaged or has any defects, it needs to be replaced. Only a level 2 electrician can replace your existing pole and install a new pole.
At David Fenech Electrical Services Pty Ltd, we also offer temporary power pole installation.
Talk to Our Level 2 Electrician in Sutherland Shire Today
With over 20 years of experience, we can handle any electrical job that you have. To learn more about our level 2 services, give us a call today. Contact us today on (02) 9833 9566.
Dave Fenech Electrical Services Pty Ltd is your local level 2 electrician in Sutherland Shire.