Temporary power pole installation is often required during construction. Temporary power can provide you with the needed electricity for trailers and equipment while your new property is being built.
At Dave Fenech Electrical Services Pty Ltd, we can supply and install your temporary or permanent power pole.
Electricity is dangerous and temporary power is no different. It is important that you hire a certified level 2 service provider. Our electricians have been trained and know how to handle temporary electrical installation safely.
Planning for Temporary Power Pole Installation
When having a temporary power pole installed, there are several things to consider. Pre-planning can make your job a success.
When do you need to have power on the job site?

What will the power needs be for you and your subcontractors?

Where can the pole be installed so that it won't need to be moved during the construction phase?

When will the job be finished?
Answering these questions will help you plan ahead so that you won't have to have us back out to make any changes. When we put in the pole, we can install a temporary or permanent meter box to the pole for site power. Knowing exactly what you need can save you time and money.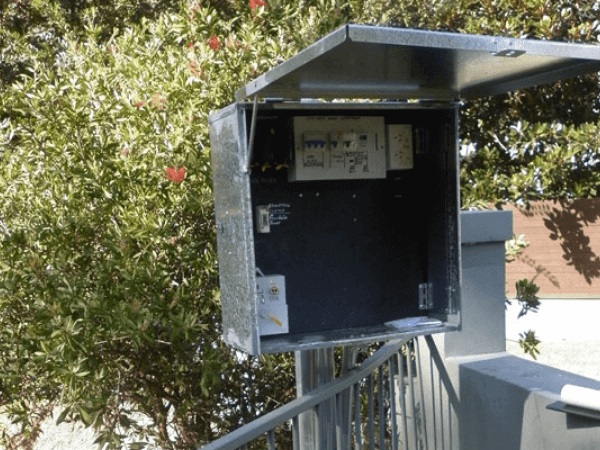 Overhead vs. underground
When having a temporary electricity connection installed, you can choose to have it run overhead or underground. Overhead is the most common type of temporary electrical installation, but most suburbs in Sydney are moving to underground installation, which can be safer.

Overhead
Overhead installation is cheaper than underground. It can be more hazardous on a job site since it can get in the way of workers and tall equipment.
Underground
Temporary power pole underground installation is safer than overhead. It does cost a little more, but it gets the lines out of the way. A trench will need to be dug to bury the wires. So the existing utility infrastructure will determine if underground installation is possible.
Removal of Temporary Power Pole
Once the job is complete, we will come back out and remove the power pole. During this removal process we can relocate the meter box onto the house.
If required, we can install a private power pole on your property, converting an overhead powered street to underground coming to your home.
Private power poles allow you to position the pole on your property where it's most convenient. We will then connect the pole to the public power supply.
Benefits of Private Power Poles:
Can be placed in a convenient location

Can create a safer environment

Move unattractive cables
Why Choose Us
We have over 20 years of experience and provide full service. We can install the pole, metering, overhead or underground service. Once you're done, we will come back and remove the pole and connect the permanent power.
Our electricians are experts in the electrical field. They can handle any type of temporary site power installations that you have. You can expect to receive quality work that meets the temporary electrical installation regulations.
Being an accredited level 2 service provider we also provide:
New Meter Installations

Meter Box Upgrades

Switchboards

Power Pole Replacement

Renovation

Air Conditioner Installation
Permanent Overhead Service Lines

Permanent Underground Service Lines

Disconnections and Reconnections

Emergency Repairs

Defect Rectifications
Start Planning Today
We will design the electrical system that will meet your specific needs. There isn't a job too big or too small. Dave Fenech Electrical Services Pty Ltd services all areas of Sydney, Penrith, and Blacktown based in Western Sydney NSW. If you're in need of temporary power pole installation, call us today.