A functioning circuit breaker is an essential asset for any modern home. A circuit breaker not only improves your home's fire safety but reduces the electrical mayhem that a faulty wire or malfunctioning equipment could cause. 
Especially if you are looking to upgrade your current switchboard, it may be an ideal time to consider installing a circuit breaker.
For all your switchboard, RCD and circuit breaker needs in Sydney, trust the professionals at Dave Fenech Electrical. With over 20 years of experience in domestic and commercial services, we offer the highest quality electrical work to keep your home and family safe.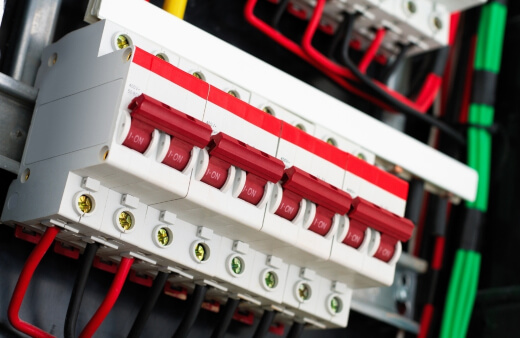 What is a Circuit Breaker?
A Circuit Breaker is often confused with a safety switch. However, they are not the same device. A Safety Switch is designed to protect people from electrical shock. A safety switch will usually only cut off one affected area. 
An electrical circuit breaker, on the other hand, is manufactured to protect your home. Designed to safeguard the circuitry of your whole house, a circuit breaker is a switching device that interrupts any abnormal electrical current. 
In interrupting this faulty current, it can protect your entire electrical system from potential damage, including overheating and fires caused by power surges. 
What Does a Circuit Breaker Do? 
A circuit breaker is designed to 'trip' when a predetermined amperage loads. If a specific limit is reached anywhere in your home's circuit, the breaker will trip and prevent the current flow, in turn protecting your entire circuit from damage. 
Common reasons a circuit breaker may trip include: 
Overloaded Circuits
When you are perhaps running too many appliances at once and overloading your switchboard. (Learn more about the dangers of electrical overloading here).
Short Circuits
This usually occurs if there is a significant wiring issue or an appliance is damaged. 
Arc Faults
This occurs when there are irregular power fluctuations, which can cause sparking. 
Ground Faults
When a live wire makes contact with a material that it shouldn't, e.g. water. In these cases, there is a very high risk of electrical shock.
What Are The Different Types of Circuit Breakers?
There are many types and sizes of circuit breakers, and what you will need for your home may vary depending on the size of your circuit. 
Standard Circuit Breakers
Comes in two varieties, single-pole and double-pole circuit breakers. Single-Pole circuit breakers are the most common in domestic settings and will protect one energized wire. 
Double-pole Circuit Breakers
Designed for a shared trip mechanism and will protect two wires. 
GFCI Circuit Breakers or Ground Fault Circuit Interrupter Circuit Breakers
Designed to monitor overloaded currents. These are not suitable for continuously running appliances, such as refrigerators. 
AFCI Circuit Breakers, or Arc Fault Circuit Breakers
Specifically designed to stop electrical fires that would be caused by inadvertent electrical discharge. These kinds are usually installed alongside your standard breakers. 
 When choosing the right circuit breaker for your system, we recommend consulting with an electrical expert, like Dave Fenech.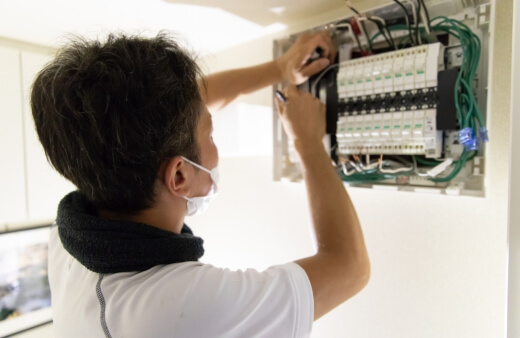 Do You Need a Professional to Install Your Circuit Breaker?
As with any electrical work in your home, it's always the safest idea to trust the task to an expert. When it comes to matters surrounding your switchboard or circuit breakers, it is a requirement that only a qualified electrician can install them. 
Unless you're a trained electrical professional, going the DIY route may put you at risk of violating building codes and voiding your insurance. Plus, installing a circuit breaker requires handling naked wires, which can be incredibly dangerous in the wrong hands. 
To keep your electrical systems safe and secure, contact the experts at Dave Fenech today. Our reliable and licensed technicians are always on call to ensure your electrical work in Sydney is completed safely and in a timely manner.
Dave Fenech technicians can assist with: 
Installing or Upgrading Your Electrical Circuit Breaker

Repairing Damaged Circuit Breakers

Troubleshooting Continually Tripping Breakers
When it comes to continually tripping breakers, the solution is not always as easy as simply switching it back on each time. Tripping breakers are often a sign of an underlying issue, such as an overloaded circuit or a ground fault.
Contact Us Today For All Your Circuit Breaker Issues
If you're concerned about your tripping circuit breaker or look to upgrade yours and improve your home safety, contact Dave Fenech Electrical Services today. 
Our highly trained and skilled technicians are here to assist with all your circuit breaker needs. Servicing all of Sydney, including Penrith and Blacktown NSW. Contact us today to book and receive a free quote when you contact 9833 9566.