There are many electrical situations that require you to use a level 2 electrician Mt Druitt.
Dave Fenech Electrical Services Pty Ltd is certified and can take care of all of your electrical needs.
Dave Fenech has been providing Mt Druitt's Level 2 electrical needs for over the last 20 years. Let's just say he knows how to complete a job fast and safe.
Whether you are installing a new service or need to upgrade your existing service give us a call.
We provide level 2 electrical services to homeowners and builders in all areas all of Sydney, Penrith and Blacktown.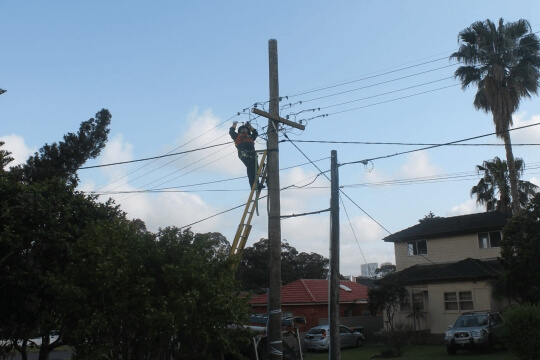 What is a Level 2 Electrician?
A level 2 electrician holds the necessary qualifications and is certified by the government to physically connect your service to the network.
A Level 2 electrician Mt Druitt is different from an A grade electrician.
The type of electrical work that a level 2 electrician is able to perform is more dangerous, and they are trained in doing it safely.
Why Dave Fenech as your Mt Druitt Level 2 Electrician?
If you are having any type of major electrical work done it must be performed by a level 2 electrician Mt Druitt.
David Fenech Electrical Services Pty Ltd holds the certification needed, and we can take care of any size job that you have.
You do not have to hire an A grade electrician to care of all the small stuff, we can do it all.
By calling us directly you will be able to get your job done faster and cheaper.
The types of jobs a level 2 electrician in Mt Druitt can perform
Only level 2 electricians can connect underground and overhead cables to the point of supply. Being certified we can perform disconnections as well as reconnections to the service, replace service fuses, and replace service active and neutral links if needed.
Metering has to be installed before you can use your electric service. Your electricity service provider requires that you have a meter so that they can record your consumption.
We are able to perform
meter upgrades
meter removal and installation
1 phase meter to a 3 phase meter upgrades
We offer off-peak meters, granny flat meters, solar panel meters, smart digital meters and relay switches.
Disconnecting and reconnecting to the street power.
Disconnections and reconnections to the network must be performed by a level 2 electrician Mt Druitt.
Outdated and defective switchboards can be dangerous. If your board is old or is blowing fuses it is a good idea to have it upgraded or replaced. These switchboards can lead to electrical shock as well as fires.
Switchboards are vital to providing you with electricity and it is important that it is up to date and can handle your electricity needs.
Being certified allows us to offer switchboard removal, replacement, and upgrades. You can also have your switchboard relocated to a more convenient area if needed.
If your switchboard contains asbestos it will need to be replaced. Asbestos is dangerous and needs to be removed by a professional that knows how to handle it properly.
A level 2 electrician Mt Druitt can do any type of electrical repair from minor issues to major problems.
We are able to save you time and money when dealing with your defect rectifications. We understand these issues can be stressful and we will work with you to make sure that they are taken care of properly as well as affordably.
A level 2 electrician Mt Druitt is required to replace or install any power poles. If you have personal power pole make sure that you perform regular checkups.
Look for any defects such as cracking, leaning, rotting wood, rusting metal, termite damage and low hanging or damaged wires.
Other jobs that we are able to perform.
Along with level 2 electrician Mt Druitt services we are able to perform all the services that an A grade election can perform. These include, but are not limited to:
Trenching and any size cable install
Duct installation in street for subdivided blocks
Temporary power poles
Temporary power supply
1 to 3 phase supply upgrades
Circuit breaker and safety switch installs
Call Us Today
Call us today for your free quote. You can contact us on (02) 9833 9566. Here at Dave Fenech Electrical Services Pty Ltd, we are your local level 2 electrician Mt Druitt.